Reading and Math Tutors Needed in Oakland Elementary Schools
By Jim Wambach | October 1, 2021
80% of Second-graders in Children Rising Schools are Two or More Grade Levels Behind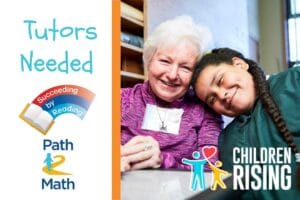 It has been a turbulent 18 months, so full of challenges and opportunities. The global pandemic had a galvanizing effect in many ways. We saw the Oakland Undivided Campaign virtually eliminate the digital divide in Oakland Unified School District. Children Rising and other community partners now offer programs online. This summer, for the first time ever, we provided summer tutoring sessions for reading and math – with volunteers from all over the Bay Area jumping online with the kids!
There is now a profound need — and opportunity — to do more for more of these kids and make truly meaningful progress in closing the devastating achievement gap that has widened in the midst of the pandemic. Fall testing results are in, and 75-80% of the second-graders in the schools we serve at OUSD are two or more grade levels behind in reading and/or math. Below are math scores from 22 second-graders from one classroom, representative of the schools we serve.
Our amazing educators are working extremely hard but they really have their hands full this year. These results are not a surprise. We've all been talking about pandemic-related learning loss, but stats don't tell the whole story. Although it makes for very grim reading, it's important to remember these are 22 amazing little people that are going to need all of the support they can get this year.
A shortage of tutors this year
This is not a normal request for volunteers. The need is greater than ever to serve the schools we are currently working with. Unfortunately, because of COVID, our numbers are down. Path2Math needs at least 40 more tutors. Succeeding by Reading needs another 40-50 tutors.
Each of you can help
It's an extraordinary time, and your help in spreading the word and generating community interest to get involved can make a huge difference this year for many children. Here's how you can help.
Become a tutor. If you have ever considered stepping forward to nurture and empower a struggling child in school, now is the time.
Spread the word. If you know of anyone who may be interested in tutoring an amazing young learner, please share this with them.
Learn more about Children Rising tutoring opportunities. If you are on the fence, this may be the tipping point for you!
The programs are ready – Path2Math makes it possible for every volunteer to tutor online. Succeeding by Reading is looking for tutors who can tutor the kids in the schools.
Please let me know if you have any questions or need additional information. I am grateful for any assistance you can provide as we work to spread the word throughout the community.
For the Children,
Jim
YES, I CAN empower a child to build bridges to a better future!
 I want to learn more about online reading or math clinics to see if tutoring is right for me!
I want to help fund Children Rising tutoring and mentoring programs to empower more children this year!