Celebrate Hispanic Heritage Month by Encouraging and Embracing Our Brothers and Sisters
By Eric Steckel | September 16, 2022
Let Education Be the Great Includer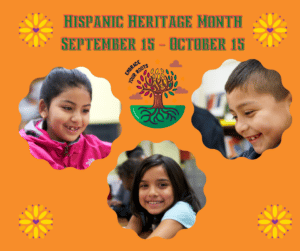 Yesterday marked the first day of Hispanic Heritage Month in the United States. It began in 1968 to celebrate the history, culture, and contributions of those who came to the country from Spain, Mexico, the Caribbean, Central America, and South America.
Today we continue to celebrate those contributions, but the name itself has become controversial. Even the supposed need to celebrate our brothers and sisters raises concern for some. To some, it further underscores the notion that they are somehow different. To others, it fails to capture the notion that the only commonality among these groups is their shared language.
As we reflect today, I consider ways that we can both celebrate the diversity of the cultures that make up America in 2022 and find ways to ensure that they are fully embraced in this melting pot we call America.
You can empower a child to build bridges of hope!

Our Vision is that every struggling child is reached by a caring community at a critical time in their life to nurture hope, the courage to dream, and the opportunity to thrive.
They say that education, and reading and math, in particular, is the great equalizer. I would say that it is also the great "includer."
Many of the children in our Succeeding by Reading and Path2Math programs are Hispanic or Latino. For a variety of reasons, the majority of the children in our programs are two or more grade levels behind in reading and math. By coming alongside these eager young children, we embrace them and tell them that they matter. We see them. And we celebrate them.
Along the way, we also enable them to learn fundamental reading and math skills so they may rise to their God-given potential.
For the children.
If you are intere

sted in volunteering, learn more about opportunities with Children Rising.
 I want to learn more about online reading or math clinics to see if tutoring is right for me!
I want to help fund Children Rising tutoring and mentoring programs to empower more children this year!