Arab American Heritage Month – Salam
By Eric Steckel
April 7, 2023
Children Rising Celebrates the Rich Diversity and Contributions of Arab Americans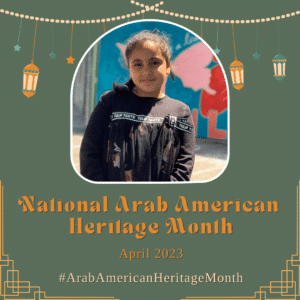 April is Arab American Heritage Month, a time to recognize and celebrate the rich cultural diversity and contributions of Arab Americans in our community. It coincides with Ramadan this year, which runs the evening of Wednesday, March 22nd, through the evening of Thursday, April 20th.
A Rich vibrant Arab American community
Oakland, known for its diversity, is home to a vibrant Arab American community that has made significant contributions to the city.
Although the Arab American community in Oakland is vibrant, the federal government does not recognize a race category that represents them. As a result, it is difficult to get an accurate count of Arab American students enrolled in schools. However, Oakland Unified School District (OUSD) has been able to disaggregate and account for approximately 1,200 OUSD students from Arab ethnic backgrounds or who come from Arabic-speaking families. "Arab American Heritage Month…is an opportunity to acknowledge and celebrate the history, achievements, and legacy of Arab Americans while also connecting with Arab American scholars at OUSD."
Will you complete HER Circle of Care?

Your gift to the 2023 Fall Matching Campaign will help close the circle of care for an eager young child. Give today, and your donation will be DOUBLED.
Many Arab American children participate in Children Rising programs. Some of these children and their families have fled war-torn countries and have come to Oakland because of its rich cultural diversity, inclusive spirit, and opportunity to thrive. Others simply aspire to live in a region with abundant economic and educational opportunities. We are proud of their accomplishments. We celebrate recent college graduate Haifa, who came through CareerBridge and aspires to become a doctor. And Maliha, who is thriving in our Path2Math program.
At the same time, language barriers can make learning difficult for these children. Indeed, it can also make it difficult for parents to support their children's learning. FamilyBridge provides homework support, and in-home teaching tools for parents of all cultural backgrounds. It empowers children to excel in school, become lifelong learners, and rise to their God-given potential.
This month, we encourage everyone to take the time to explore and celebrate the rich heritage and contributions of the Arab American community in Oakland.
OUSD is collaborating with Arab Youth Organizing (AYO), the youth arm of the Arab Resource and Organizing Center (AROC), to release a youth-led Arab American Heritage Month guide. The guide features Arab youth sharing their experiences and struggles growing up in Bay Area public schools in their own words.
This month, we encourage everyone to take the time to explore and celebrate the rich heritage and contributions of the Arab American community in Oakland. Let's recognize their contributions and appreciate the diversity that makes our community so unique and strong.
Yes, I can empower a child to become a lifelong learner.
 I want to learn more about online reading or math clinics to see if tutoring is right for me!
I want to help fund Children Rising tutoring and mentoring programs to empower more children this year!